As the world is in the midst of a wide range of public health and social issues, big tech companies are being called out for their censorship policies.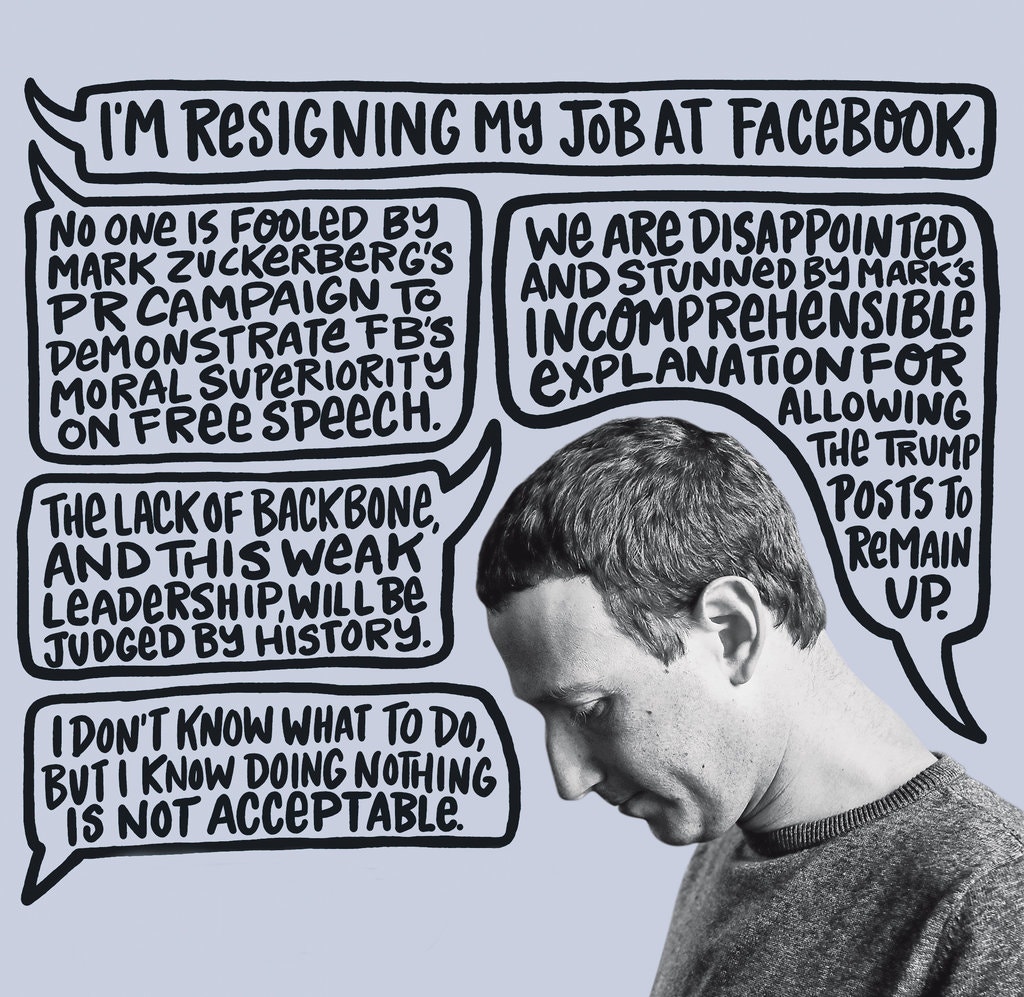 By Caroline Wang
Published June 16, 2020. Updated June 16, 2020.
It is undeniable that social media plays a crucial role in how people perceive and receive information. Under Section 230 of the Communications Decency Act, social media companies are protected from liabilities relating to posts on their platforms. In the midst of the COVID-19 pandemic, the Black Lives Matter movement, and the presidential election, two companies are in deep water with the public over their refusal to censor President Trump, the common denominator in all of those issues.
Facebook, run by company founder Mark Zuckerberg, decided to allow Trump's comments on racial protests to remain on the website. Based on Zuckerberg's call with his employees, the comments were ruled appropriate to keep on the site — they fall under "state use of force" which doesn't violate company policy. Zuckerberg also said that he stands for free speech and that world leaders' posts are newsworthy. Many employees were against this decision. As a result, many Facebook employees resigned and protests broke out in front of Zuckerberg's home. Employees also participated in a virtual "walkout" by refusing to work. Vanita Gupta, head of the Leadership Conference on Civil and Human Rights, had a meeting with Facebook officials and later compared their refusal to censor Trump's posts to their inaction in Myanmar and the Philippines where they allowed military leaders to spread false information. Zuckerberg attempted to quell the controversy by meeting with employees to further discuss his decision. However, he still refuses to take action against Trump's inflammatory posts. One of the engineers that resigned named Timothy Aveni has posted, "I'm watching my company do nothing to challenge the increasingly dangerous status quo".
Twitter, on the contrary, has hidden one of Trump's controversial comments, which read "when the looting starts, the shooting starts," behind a warning statement that it glorifies violence. This is the first time that Twitter has applied a policy of censorship to one of President Trump's tweets. In response to the censorship, Trump issued an executive order limiting tech companies' legal protections. Twitter continued to label hundreds of tweets related to the murder of George Floyd. Trump continued to tweet, and said in a newer post on looting that he does not promote violence. This post was not flagged by Twitter. Professionals have stated that it is important for Twitter to approach censorship with caution because this is one of the first instances of big tech companies standing up against world leaders. Twitter's actions might initiate a wave of responses from tech companies that prioritize social responsibility over the hands-off free speech policy.
Source: